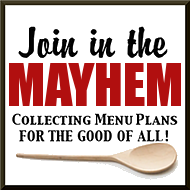 Menu Planning Monday
It's been something like the seven plagues here this week. Mice, flooding, ants, dog tearing into a purse (in his defense, his loving young owners neglected to give him his morning OR evening food. I haven't had to remind them in months so I didn't even think about it. My purse always has a granola bar or two for the kids, and he was hungry!) and, of course, there's the overtime my husband's been working, which is throwing me off, too.
Hopefully being prepared will help!
Breakfasts:
Greek Yogurt Parfaits with Bananas and Granola
Muffins (we're baking for the freezer this week as part of our lesson on fractions. We'll be making pumpkin spice with cream cheese filling, blueberry crumb, cranberry orange, and lemon poppyseed)
Scrambled Eggs
English Muffins with Jelly and Butter
Lunches:
Leftover chicken sandwiches
Macaroni and Cheese and Green Beans
Peanut Butter and Jelly
Dinner Leftovers
Grammy Salad (allowed to soak in vinegar and olive oil for 15 minutes the way my grandma did) for momma
Dinners:
Vegetable stir fry with brown rice
Mushroom, Barley, and Kale Soup (similar to
this one
)
Turkey Burgers with Sweet Potato Oven Fries and Horseradish Creme dipping sauce
BBQ Chicken sandwiches from the crock pot (Football/Scout night)
Leftovers
Homemade Bagel Pizzas